Hillary Stires, PhD
Friends of Cancer Research
Washington, DC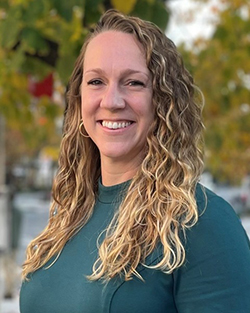 Hillary Stires serves as a Science Policy Analyst at Friends of Cancer Research (Friends). Friends is an advocacy organization based in Washington, DC that drives collaboration among partners from every healthcare sector to power advances in science, policy, and regulation that speed life-saving treatments to patients.
At Friends, Hillary supports the development and implementation of the organization's research and policy agenda. She uses her scientific and advocacy background to develop evidence-based policies. Hillary collaborates with diverse teams to identify challenges in cancer research and create solutions that improve and accelerate cancer care for patients.
One of the projects Hillary runs is called The Homologous Recombination Deficiency (HRD) Harmonization Project, which supports the future use of assays that measure the HRD biomarker for treatment decision making in solid tumors including ovarian cancer. Friends is currently examining sources of variability across HRD tests and identifying opportunities for alignment while proposing solutions to improve agreement in the future.
Prior to joining Friends, Hillary worked as a consultant at Avalere Health where she supported clients in navigating the regulatory strategy and FDA policy environment to improve market access. She received her PhD in endocrinology and animal biosciences from Rutgers University and completed a postdoctoral fellowship in tumor biology at Georgetown University's Lombardi Comprehensive Cancer Center. Follow her on Twitter @hillstirsci.