James Versalovic, MD, PhD
Baylor College of Medicine / Texas Children's Hospital
Houston, Texas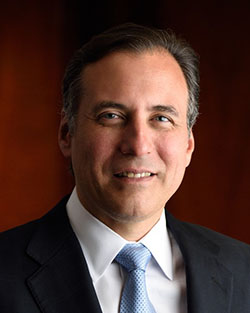 A molecular pathologist with expertise in infectious and digestive diseases, Dr. James Versalovic is an authority in pediatric laboratory medicine as a leading physician-scientist. His main clinical interests are medical microbiology, molecular diagnostics of infectious diseases, metagenomic medicine, and molecular pathology. He developed the first microbiome center based in a children's hospital and the first therapeutic microbiology fellowship program in the country. Dr. Versalovic has helped create the new field of metagenomic medicine by exploring ways that metagenomics and microbial manipulation can be used to diagnose and treat human diseases.
Dr. Versalovic is advancing metagenomic medicine and its applications in chronic gastrointestinal disorders, including pediatric irritable bowel syndrome (IBS) and inflammatory bowel disease (IBD). His research program has been supported by the U.S. National Institutes of Health, the Department of Defense, and the Crohn's and Colitis Foundation. He has authored 201 primary manuscripts and 41 book chapters and has two patents. He has served as Editor-in-Chief of the Manual of Clinical Microbiology, the "Bible" of laboratory-based diagnosis of human infections.
Having received his PhD in cellular and molecular biology at Baylor College of Medicine (BCM) in 1994 and his MD with honors at BCM in 1995, Dr. Versalovic pursued clinical pathology residency training at the Massachusetts General Hospital and Harvard Medical School. He completed a postdoctoral research fellowship in the Division of Comparative Medicine at the Massachusetts Institute of Technology (MIT). He currently serves as Pathologist-in-Chief and Chair of Texas Children's Department of Pathology at Texas Children's Hospital. He serves as Professor and as Vice-Chair of Pathology and Immunology at Baylor College of Medicine. Dr. Versalovic served as Interim Physician-in-Chief in 2020, and Pediatrician-in-Chief in 2021, at Texas Children's.
Dr. Versalovic has been recognized with BCM's Distinguished Alumni Award and was elected to The American Academy of Microbiology in 2019.