Josephine Dermawan, MD, PhD
Cleveland Clinic
Cleveland, Ohio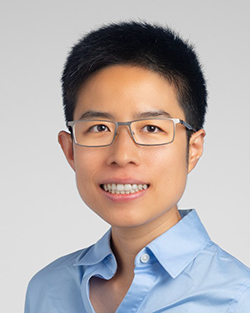 Josephine K. Dermawan, MD, PhD is a bone and soft tissue and molecular pathologist. A native of Macau, she obtained her medical degree from Fudan University Medical School (former Shanghai Medical College). Subsequently, she moved to Cleveland, Ohio to pursue her PhD degree in Molecular Medicine at Case Western Reserve University Cleveland Clinic Lerner College of Medicine. Under the mentorship of Dr. George Stark, her research focused on nuclear factor kappa B signaling and the histone chaperone complex FACT, and how targeting these pathways in combination with tyrosine kinase inhibitors could serve as effective therapeutics in non-small cell lung cancers and glioblastomas.
Thereafter, she joined the Anatomic and Clinical Pathology (AP/CP) residency program at Cleveland Clinic, during which she was elected as AP chief resident and then as CP chief resident. She won the George C. Hoffman Resident Teaching Award upon graduation. She subsequently completed a fellowship in Bone and Soft Tissue Pathology at Cleveland Clinic, followed by a fellowship in Molecular Genetic Pathology at Memorial Sloan Kettering Cancer Center. As a trainee, she was the first author of more than 40 publications. These studies include the first characterization of a novel entity, superficial ALK-rearranged myxoid spindle cell neoplasm, the largest morphologic and molecular study of YAP1::TFE3-fused hemangioendothelioma, comprehensive genomic profiling of EWRS1/FUS::CREB-rearranged and SMARCB1-deficient mesenchymal tumors, and the discovery of genome-wide loss of heterozygosity in myxoid pleomorphic liposarcoma, establishing it as a distinct entity.
Dr. Dermawan recently joined the Bone and Soft Tissue Pathology and Molecular Pathology sections at Cleveland Clinic as a junior faculty. Her research focuses on deciphering the genomics and epigenomics of emerging and established soft tissue and bone tumors, and their translational applications in the diagnosis and management of these rare but fascinating entities.