Robert Hasserjian, MD
Massachusetts General Hospital
Boston, Massachusetts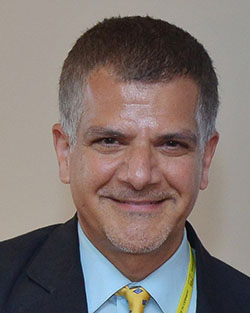 Dr. Robert Hasserjian is Professor of Pathology at Harvard Medical School and a Hematopathologist at Massachusetts General Hospital, where he is Director of the Hematopathology Fellowship Program. Dr Hasserjian received his MD from Harvard and trained in Anatomic Pathology and Hematopathology at Brigham and Women's Hospital. He is President of the Society for Hematopathology and he was co-organizer of the 2017 Society for Hematopathology/European Association for Hematopathology Annual Workshop, with the topic of "Molecular Genetics of Hematopoietic Neoplasms".
His research interests are in the discovery of pathologic and genetic features associated with the biologic behavior of myeloid and lymphoid neoplasms, particularly myelodysplastic syndromes and acute myeloid leukemia. Dr Hasserjian is an author of over 200 peer-reviewed publications, reviews, and chapters and is the editor of the textbook "Diagnosis of Blood and Bone Marrow Disorders" (Springer, 2018). He was a Senior Reviewer and author of multiple chapters of the Revised 4th Edition WHO Classification of Myeloid Neoplasms published in 2017, is a leader of the 2022 International Consensus Classification of Myeloid Neoplasms, and is an expert panel member for the 2022 European LeukemiaNet recommendations on the diagnosis and management of AML.
Dr Hasserjian is strongly committed to education in hematopathology and has lectured on the diagnosis of leukemias, other bone marrow disorders, and lymphomas at numerous courses and international pathology meetings across the Americas, Europe, and Asia.